Evidence of Effectiveness
Readorium did extensive field testing of the effectiveness of our reading and science learning application. The results indicate significant improvements in reading levels and comprehension for reading and science learning
Readorium Field Testing Research and Results
Readorium was field tested three times as part of the US Department of Education requirement for their grantees.  Participating schools were from diverse urban and suburban communities. In each field test, students of all racial, ethnic, and socio-economic backgrounds far exceeded the expected outcome for a 6-8-week field test regardless of demographic status. 
All students took an independent valid and reliable pre and post comprehension test, the Diagnostic Online Reading Assessment. The average comprehension score of students who read 10 or more Readorium books (with 7 chapters each) increased approximately one school year during the field-test.  The following charts are the average gains of all three field tests.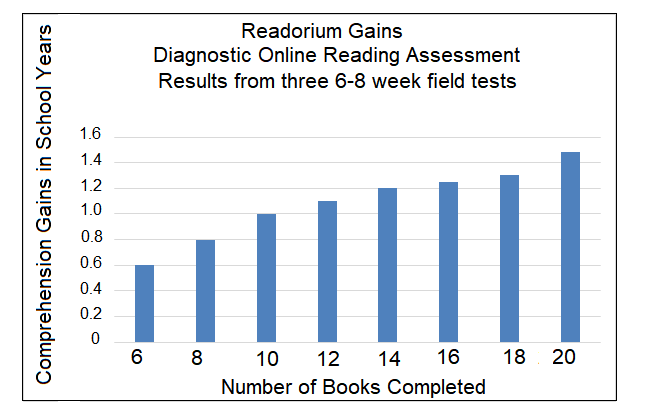 Student and Teacher Feedback
Feedback from teachers and students was overwhelmingly positive. Both report that students use the strategies they learn to understand all text, are more enthusiastic about science and reading, are motivated by the program's gaming aspects, and would recommend the program to others.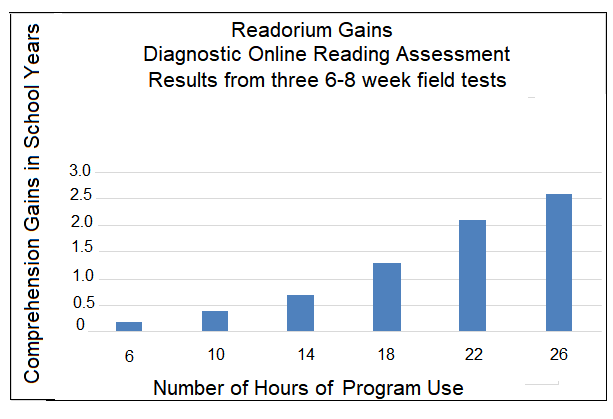 Response to Intervention (RTI)
The goal of Response to Intervention (RTI) is to support students at all skill levels in order to meet their educational needs. This goal is one that is shared with Readorium. Read more here.