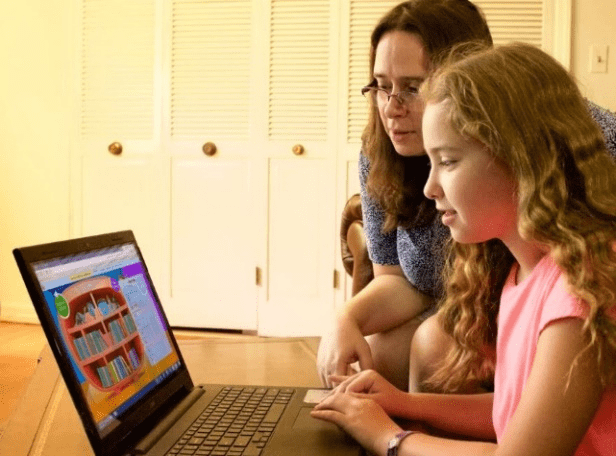 The unimaginable has happened. Schools remain closed due to COVID-19, and there is no end in sight. Many parents now have the new title of "teacher," which they may find very uncomfortable. Helping your kids at home during this global crisis can be quite the challenge! As a mom, grandmother, and former teacher and administrator, myself, I know that kids have a different relationship with parents than they do with teachers. It can be difficult to keep your own kids motivated to study, and to train them to become independent, self-starting learners. However, in my years of experience, I've picked up a few ideas that I think might be helpful.
1) Be open and honest with your child about this challenge: Let your child know that this is a difficult (and in fact, unprecedented) time for everyone, and that all of us need to do our part. Kids need to know that you understand that they are being asked to be more independent when it comes to schoolwork, than ever before. On the positive side, let them know that this is a time where they can really prove themselves and show you how grown up, they can be.
2) Show your kids how proud you are: Let your kids know that you are their cheerleaders! You may not know all the answers, but you are there for them because their education is so important. Make sure your kids know you are proud of them when they take responsibility and show that they can work independently. Understand, that inevitably there will be some frustrations and setbacks. Speak with them about what they think you can do to be helpful to them during those times.
3) Know what your child's teacher and school expect: Schools vary widely on how they are handling daily assignments. Some post them on google classroom in the morning, and the kids have all day to complete them. Others have lessons for kids to watch, checkpoints when kids need to sign into the computer and respond, and specific "office hours." Make sure that you and your children understand the expectations. Check the school website or email the teachers involved, as often as necessary. Your child's interpretation of what is expected may not always be completely accurate
4) Encourage your child to get help from their teacher: Most teachers will respond to emails or have set up some way to correspond with their students. As a teacher, I always liked when kids asked questions to make sure they understood what was expected. If your child is reluctant, you may need to email the teacher(s) involved and just ask.
5) Discuss assignments with your child: Go over the directions for the assignments. Check to see if your child knows what to do and how to do it.
6) Build a routine at home and encourage your child to follow that routine: If kids have all day to complete assignments, many of them will procrastinate and misjudge the time it takes to complete them successfully. Work out an arrangement with your child as to when you expect them to be working on different subjects. Kids do need down time and exercise. Build in breaks and fun activities, that you decide on with your child, so that the day goes smoothly.
7) Review completed assignments: Have your child show you what he or she has accomplished. Even if you think that corrections need to be made, let your child know what he or she did that impressed you.
8) Try new learning experiences: Playing games, cooking with your child, building things, and reading with them are great ways of bonding with your children and helping them build new skills. There are also wonderful educational programs on television that you might want to watch and discuss together.
Remember, this time is challenging for every family member. We will get through this together if we listen to one another and keep trying to be positive.