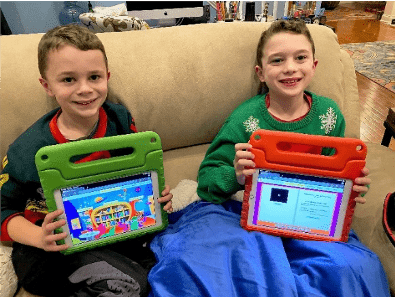 How to motivate your kids to do serious play…
Kids love video games, but few games teach the skills we want our kids to know. Readorium will not only teach them important strategies that will help them make sense of all nonfiction text, but it will also increase their background knowledge in science. Readorium is designed to help kids become analytical readers and science enthusiasts. Your interest in what they are learning is of the utmost importance!
Before Your Children Use Readorium:
Let your child (or children) know that by using Readorium they will become great readers and science experts. Make sure you tell your children thatyou would love to hear about the new things they are learning, and that you are proud of them for taking on the learning challenge of Readorium!
Tell your Kids to "Go for the Gold!"
Children earn gold medals when they answer questions correctly without needing any hints. When they earn these medals, their reading levels go up. Let your children know that they should always go for the gold medals when they read. They can see the gold medalsthey win for each book chapter, magazine article, and learning game.
Signing In
You will be given information on how your child signs into the program. They usually use their first initial and last name with no capitals, spaces, or abbreviations. They write the word, password, and should change it to something they will remember the first time they log in.
Independent Learning
Readorium has everything your children need to be able to use the program independently. Please make sure to ask them what reading strategies and science information they are learning. Kids generally love to show what they know, and your interest is very motivating!
Some Program Features
When you child first signs on, he/she will see a getting started video. They can always replay this video, and there is a video for every new section of the program.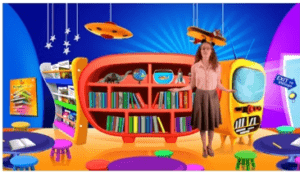 Choosing a Book
Once they enter the library (by clicking the bookshelf) your children will be able to read blurbs about the books and then make a choice about the ones they find most interesting.
The Books Adjust Like Magic
Each book chapter is written at 10-12 readability levels with the same information, paragraph structure, academic vocabulary, graphics and captions. Each book has a mentor who will demonstrate the strategies needed to understand the information and who will help children at points of confusion. The books continually adjust to your children as they read. They will get the level of text and the support they need from their book mentor to be successful as they go. They need to listen carefully to the book mentor.
Achievements
All lessons and vocabulary words they learn will be saved under Achievements in their top menus. Kids can replay these at any time.
Strategy Lessons and Vocabulary
Children will participate in strategy lessons and activities with each book. These lessons are designed to help them become analytical readers and understand all informational text. Children will also be taught academic vocabulary in context as they read definitions with all new terminology explained, participate in vocabulary lessons, collect multimedia vocabulary cards, and participate in vocabulary games and challenges.