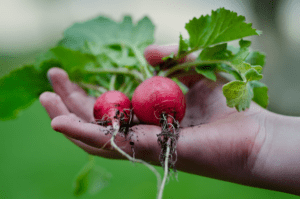 Growing a productive garden with your child takes a great deal of patience, dedication, and trial and error, but factors like cold weather and a lack of outdoor space shouldn't hold you back from growing fresh fruits and vegetables from home. For some tips and resources on starting an indoor or outdoor garden that flourishes, read on!
Start a Thriving Backyard Garden
If you have the outdoor space for growing fresh fruits, veggies, and herbs from home, these tips and resources will walk you through the process of planning your garden, improving the soil, and choosing an irrigation method.
Grow Your Garden Indoors
Whether you live in an apartment, don't have a lot of outdoor space, or it's too cold to plant a garden in your backyard, it's possible to start an indoor garden that produces some of your favorite herbs and greens. 
Start by learning everything there is to know about growing herbs and greens
Discover some of the top edibles you can grow at home in your apartment.
Grow microgreens if you're short on indoor space.
Some of the best pots for indoor gardens include air pots, grow bags, and food-grade buckets.
Purchase grow lights for your indoor garden if your greens and herbs thrive on lots of sunlight. Long-day plants, for instance, require between 14 and 18 hours of light daily.
Nitty Gritty Details
From choosing between transplants and seeds to knowing when to harvest your fresh fruits and veggies, these helpful resources will provide you with some additional information about starting an indoor or outdoor garden.
If you're on the fence, compare indoor versus outdoor gardening.
Know when and how to harvest your edibles.
Get creative in the kitchen with your homegrown goodies.
Growing a productive garden with your child requires lots of planning, thoughtful decision-making, watering, and maintenance, but the time and effort you put in will be well worth it come harvest time.
Teach your kids science and reading comprehension through the personalized learning experiences at Readorium. Start a free trial today!