Readorium was developed by education professionals for use as a supplement to classroom teaching of reading and science. It offers an online, interactive experience that has a proven track record for effectively improving reading skills, while teaching science.
Listen as teachers and students talk about their experiences with Readorium:
Readorium In The Classroom Frequently Asked Questions
Readorium was developed by educators for educators as a tool to augment classroom teaching with a fun self-guided online reading and science course. To learn more about Readorium in education and the thinking behind it please explore this FAQ section.
invisible
Why Do We Need a Nonfiction Reading Comprehension Program?
Clearly the need is great. The chart below indicates how poorly our students are doing, as measured by the National Assessment of Educational Progress (NAEP). Two-thirds of fourth and eighth grade students performed below the proficient level!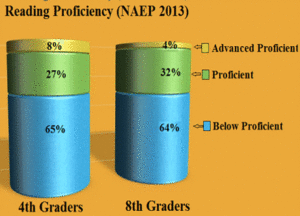 How Do Reading Problems Impact Students and Teachers?
Students who lack the tools to understand what they read, often give up and claim reading is boring. Since nonfiction is especially challenging, due to unfamiliar concepts and vocabulary, they become frustrated and discouraged. They may lose interest in school subjects and even display behavior problems
Teachers, especially at the upper elementary and middle grade levels, often lack time and/or training to teach comprehension skills. They may not see themselves as reading teachers and become discouraged. Since the students who struggle with reading are unable to learn content from their texts, the teacher becomes the center of the learning process. The student is no longer empowered to continue learning independently.
How Does Readorium Work?
Online "book buddies" demonstrate how to use strategies to construct meaning as they guide students through multi-chapter science books, designed to increase nonfiction comprehension. Students at all ability levels read the same information because, as they are continually assessed, the level of the text and the support systems automatically adjust to their changing levels. Students (or teachers) can choose book topics. No prerequisite knowledge is required, since all new concepts and vocabulary are carefully explained with common examples.
However, new chapters build on preceding ones.
All Readorium books are aligned with the Common Core and Next Generation Science Standards.
How Does Readorium Meet the Needs of Students at Different Reading Levels?
1. The text adjusts to students' reading levels as they progress. However, the content, graphics, and comprehension questions do not change.
2. Support is provided by "book buddies" that also adjust to the student's needs.
3. Students receive successively pinpointed hints to answer comprehension questions. In this way they learn to attack questions, locate information to answer questions, and understand the rationale for the correct answer.
4. Chapters are written in more complex ways to challenge students who progress quickly.
How Does Readorium Address Comprehension?
Readorium's design is based on the three "strong" recommendations of the Institute of Education Sciences (IES) to increase reading proficiency and comprehension.
1. Explicit Vocabulary Instruction: Readorium emphasizes word-learning techniques including direct lessons in gleaning meaning from context clues, interactive vocabulary cards, and vocabulary games and challenges.
2. Reading Strategies: Readorium provides direct and explicit reading strategy lessons, that include, but are not limited to: making connections; synthesizing; inferring; creating sensory images; determining importance; identifying author's purpose; monitoring for meaning; using organizational and context clues, and using print, graphic, and text features.
3. Individual Interventions: When students struggle, Readorium support systems automatically adjust to students as they use the program. This includes "book buddy" demonstrations, extra questions to break up concept density, and a hint system that helps students find text evidence to answer questions. Also, the text level changes for each student after every chapter, based on answers to comprehension questions. However, the concepts, questions, and graphics do not change.
How Does Readorium Motivate Students?
1. Adjusting readability levels and support enables all students to access the text. They are unaware of other students' reading levels.
2. A reward system for correct answers to questions encourages students to think strategically. Readorium currency buys "learning by earning" activities and games.
3. Interesting text: Books written exclusively for Readorium are clear, informative and engaging, with many pictures to break up and illustrate text. Students gain expertise in science by choosing among a wide variety of high-interest, standards-based online books.
4. Strategy instruction to understand complex text increases self-confidence.
5. Engaging features, such as humor, strategy raps, animations and learning challenges, are designed to generate student "buy-in."
How Can Readorium be Integrated into School Settings?
1. For all students the regular classroom program in Language Arts or Science to supplement reading strategies and content in the following venues:
Computer lab: whole classes access Readorium
Classroom computers: students access Readorium on a rotating basis, while teachers work with groups or individuals
Home use, e.g., for homework, and home schooling
2. For struggling students Intervention/Basic Skills Classes and Response to Intervention (Tier 2) classes' venues:
School year designated class
After school programs
Summer school programs
3. For gifted students:
Grades 1-2 use Readorium Rising Reader as enrichment
Grades 3-5 use Readorium Scholar as enrichment
How Often Should Students Use Readorium?
It is recommended that students access Readorium for a minimum of one 40-minute period a week during the school year. It can also be assigned for homework.
What is the Teacher's Role?
Although Readorium can be used independently by students, teacher involvement is always desirable. The Teacher Resource Center enables teachers to access:
Book information, e.g., alignment to standards, book blurbs, and strategies by book
Student Information in real-time student reports

Class overview reports including active time on the program, number of books and strategy lessons completed and initial, average, and current reading scores
Strategy reports based on scores on book assessments, based on strategies featured
Content area reports based on scores on book assessment, based on content featured

Using Data to Meet Student Needs: Teachers can use data to differentiate instruction based on difficulty understanding a strategy or content area. Complete lessons with sample text and graphic organizers are included.
How Do You Implement Readorium?
Readorium is designed to supplement, not supplant science curricula. Although originally intended for students who struggle with nonfiction text, our field tests indicate that the program motivates and benefits students at all skill levels in reading. Readorium is appropriate for school programs or home use. Students in intervention or basic skills classes, science or language arts classrooms, special education classes, after school or summer school programs all can benefit from Readorium.
Readorium Alignment to Carolina Building Blocks
Contact Us for a Free Test Account and Information Package
There's no obligation and we'll be happy to discuss your specific needs.
And you'll be talking to a fellow education professional!