The Readorium Experience: Video and Feature Tours
See a video overview of Readorium in 4 minutes!
Too long? Scroll down to see this video in segments by subject matter.
What Readorium Does
Learn about the reading problem in US and the research behind what Readorium does to help students become great nonfiction readers and science enthusiasts!
Readorium Strategies
Learn how students choose books and learn the strategies needed to understand them.
Differentiation
Learn how Readorium automatically adapts to each student's needs, so every child can learn the same rich, indepth information.
Word Learning Skills
See the many ways students are taught word learning skills to increase their academic vocabulary.
Motivational System
Learn how Readorium makes learning fun with music, humor, activities, rewards, and challenges.
Student Progress Reports
Find out how Readorium reports on student progress.
Field Test Reports
Readorium has been proven to be effective. See the results of the Readorium field tests.
What Teachers and Students Say
What do teachers and kids say about Readorium? Find out!
Interactive Lessons and Games
From our Word Wizard World game to more than 1,500 interactive vocabulary cards, students develop a strong vocabulary as they use new words collected from the text they read.
Click to see a Readorium vocabulary video.
Research-Based Reading Strategies
Readorium students learn research-based, proficient reading strategies to help build their comprehension skills. Kids are engaged as they learn through strategy raps, animations, humorous videos, and games.
Watch this video to see one of our strategy lessons.
Content Standards
Readorium is aligned to National and State Science and ELA Standards for Grades 3 through 8. Please contact us for your specific detailed Readorium alignment.
Rewards and Incentives
Rewards and incentives are what students mention most often when they explain why they find Readorium so engaging.
From a millionaire spot in our Hall of Fame, to gold medals for answering questions without hints, to game tokens earned when successfully completing each book chapter, Readorium provides a strong motivational system for getting students to work diligently at reading.
Interview with Readorium National Winner:
Helpful Book Mentors
Our Book Mentors help students become expert readers. Mentors guide students through every book chapter. They help kids analyze the text by demonstrating the strategic thinking needed to understand the information. Mentors provide scaffolded hints tailored to individual students as they use the program.
In the screenshot below, Heather explains what the first question in this book is asking while providing some useful tips for answering it correctly.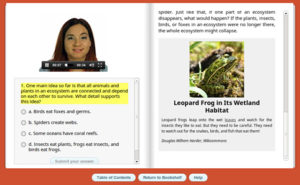 Student Progress Reports
Readorium has many reports available including Summary, by Strategy, Proficiency by Strategy and by Science Content, and by Individual Student Report. All reports are available to Administrators in both summary and detail.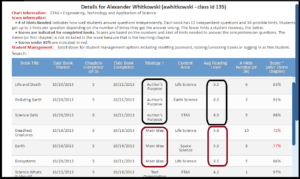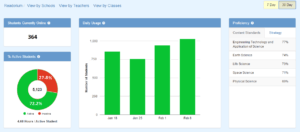 Automatic Student Differentiation
All Readorium students receive the same in depth content and science vocabulary and answer the same evidence-based comprehension questions. Readorium automatically differentiates instruction in several ways. As students use the program,  the readability level of each chapter, and the supports they receive, automatically adjust to their individual needs. Therefore, all students can reach the same high goals because they receive what they need to attain those goals.
Here is an example of an easy reading level (left) compared to a more advanced level (right).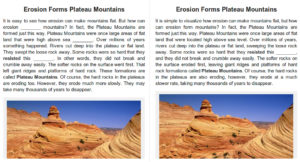 Teacher Resource Center
Supplemental instructional lessons, graphic organizers, and multimedia resources are available in the Teacher Resource Center so educators can easily target the needs of individuals, groups, or entire classes of students based on their progress data.
Get Started Learning for Free!
Readorium can literally change your child's life. Reading is a skill that opens endless doors. And, with Readorium, they improve reading skills while learning science!
Try it now, with your kids!